How to Optimize Your Billing Statements For Mobile In 3 Simple Steps
October 27, 2015 •Brian Watson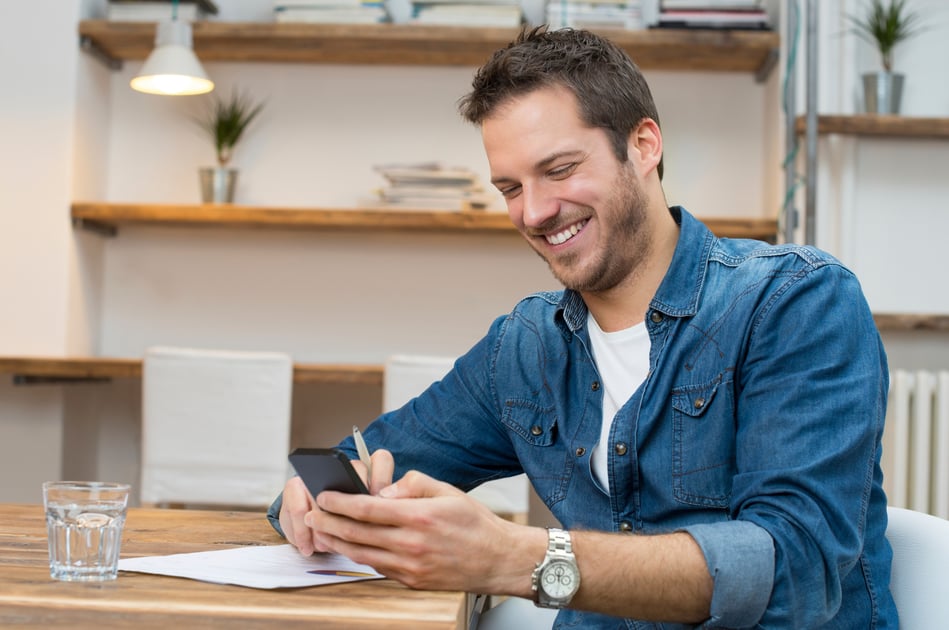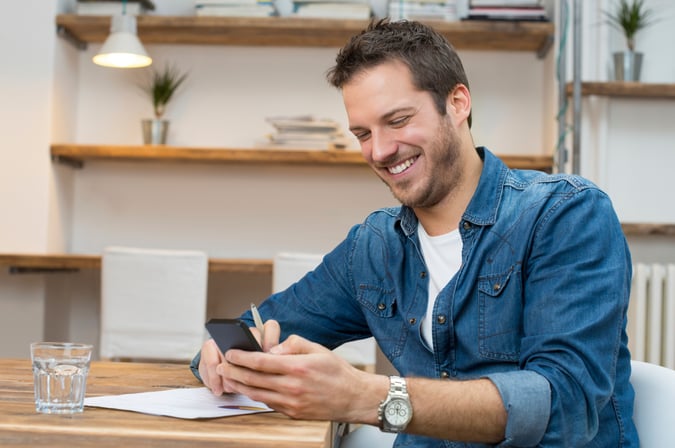 Mobile phones have quickly become an indispensible communication tool for most Americans.
According to the Pew Internet Project, a near-universal 90% of U.S. adults now own cell phones – and almost two-thirds have already upgraded to a smartphone. Not to mention smartphones are among the fastest-selling products in history – outselling PCs at a rate of four-to-one.
But phone ownership alone doesn't adequately describe just how ingrained mobile phones have become in the lives of the average American.
It's not a stretch to say that mobile phones have infiltrated nearly every part of our day-to-day routines. We rely on them not just to communicate, but to track calories, navigate from place to place, settle debates in real time, and so much more.
Consider these examples:
67% of cell phone owners find themselves constantly checking their phones throughout the day for messages, alerts, or calls – even when it isn't ringing or vibrating;
Nearly half have slept with their phone by their bed because they didn't want to miss any calls, text messages, or updates during the night;
Mobile is truly anywhere, anytime technology – combining powerful processing power with hand-held portability. And it's quickly become the standard for connectivity.
In early 2014, for the first time ever, Americans spent more time connected to the Internet from their phones than from PCs. And Google recently confirmed that the U.S. is one of ten countries in which mobile web searches outpaces those from PCs and tablets combined.
The Rise of Mobile Payment
As you might expect, the popularity of mobile payment has also grown by leaps and bounds over the last few years.
As smartphone ownership grows – and mobile pay technology becomes more ubiquitous – consumers are increasingly comfortable with the idea of paying a bill by phone.
Just 6% of households paid bills by mobile device in 2011 – despite the iPhone model that kicked off the smarphone revolution being introduced a full four years prior. Fast forward to today, however, and the demand for mobile pay is quickly reaching a tipping point.
Apple Pay and Google Wallet now allow consumers to pay with their smartphone as they would a credit card. Peer-to-peer apps enable seamless check-splitting and babysitter-reimbursement. And 52% of smartphone users with a bank account have used mobile banking tools during the last year.
With familiarity comes comfort. According to a 2014 Fiserv study, 27% of U.S. online households now pay at least one bill from their phone each month – up 350% from back in 2011.
Mobile payers prefer the channel because it's easier, saves time, and is more convenient. Unsurprisingly, mobile pay tools also moves the needle on approval – 60% of mobile payers said the technology increases their overall satisfaction.
And that's a very positive trend for billers.
Aside from the customer satisfaction advantages, mobile payment helps streamline revenue cycle ops and lower collection costs. Payment is fast and simple and manual entry errors and payment exceptions are reduced – thanks to features like real-time processing and posting of funds.
Adding Mobile Payment Tools to Traditional Statements
Despite the increase in mobile payment, there's still a big catch that's holding back further growth: paper statement delivery still dominates the billing landscape.
Although 70% of payments are made electronically, just 23% of statements are delivered via online or mobile channels.
In the short term at least, most consumers simply aren't ready to make the leap to digital statements. But that doesn't mean billers shouldn't stall the push for payment innovation.
Companies can still increase adoption of mobile payment – even for customers receiving paper statements – by looking for smart ways to make traditional billing practices more mobile-friendly.
How can you convince a customer who receives a paper bill to pay the balance due with a smartphone? What mobile tools and technology can help ensure customers better anticipate and manage billing due dates and key milestones?
Here are a three core strategies that can help you 'mobilize' your traditional billing approach.
Smart QR Codes
Quick Response Codes (or QR Codes for short) are one of the best tools billers can use to help bridge the gap between statement print and mail delivery and mobile payment.
QR Codes are 2D matrix barcodes printed on a statement that, when scanned by a smartphone, automatically redirect the browser to a specific URL – in this case to an online payment portal or a website that enables payment without enrollment.
Scanning helps reduce the time it takes for users to input long URLs into a mobile device – converting what is often a long web and cumbersome portal address into a single smartphone click. It also eliminates manual entry error, which can be a point of frustration for users when dealing with the smaller keypads on mobile phones.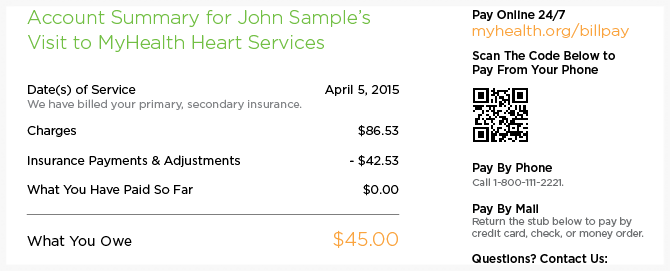 Example of QR Code Placement on a Billing Statement
Implementation Best-Practices:
Give careful consideration to where you want a QR Code to redirect customers. Minimizing clicks – by linking directly to a payment portal login screen – is generally preferred because it reduces the rate of abandonment and the time it takes to complete payment. But many billers use separate web gateways for a full payment portal and a 'quick pay' site that lets users make a payment without going through an enrollment process. In that case, a more general approach – like linking to a general billing and payment page on your website – offers additional flexibility that can reduce payment abandonment.
Use size, contrast, and white space to clearly separate the QR Code from surrounding information.
Offer a clear call-to-action that describes the purpose of the QR Code and instructions for use.
Automated Mobile Pay Reminders
Despite the reluctance of most consumers to make the move away from paper statements, billers are quickly realizing that the anywhere, anytime immediacy provided by mobile phones provides ample opportunity to streamline traditional revenue cycle practices.
Automated payment reminders are one quickly emerging tool that many billers are now using to bridge the paper-digital divide.
For example: a customer that has agreed to receive transactional communication to their cell phone – but not opted-in for eStatements – is still mailed a monthly statement. However, they also receive automated mobile alerts for key billing milestones, such as an upcoming payment due date.
Mobile alerts don't have to be tied directly to paper statement print and mail – in fact they're even more efficient when used as a bill presentment notification channel. But even applied separately as a paper billing add-on, they often act as the carrot that convinces consumers to test out digital billing.
Seventy-seven percent of consumers say bill pay due reminders would improve their satisfaction with a biller – not surprising given that forgetfulness is consistently a top reason why people neglect to pay a bill on time.
But reminders go beyond satisfaction alone. A full 71% percent of consumers say receiving billing alerts increases their likelihood of adopting eStatements. Offering mobile reminders is a good way for billers to introduce new, cutting-edge tools into the billing process – without alienating customers that aren't as tech-savvy or early to adopt new technology.
Implementation Best-Practices:
Obtain approval from customers to deliver account updates and reminders early – like during new account registration or a service enrollment/upgrade.
Limit delivery frequency. A timely reminder that helps a customer avoid a late fee is valuable. But too many updates can become an inconvenience.
Provide a payment link directly in the text message reminder – to a 'quick pay' website, for example. Direct linking offers users a simple, timely way to address a pending due date in the moment, right from their mobile phone.
A Mobile-Optimized Online Payment Portal
Although consumers are quickly becoming more accustomed to mobile payment, they're still unlikely to trust a pay site from a biller that doesn't load correctly or otherwise looks "strange" or unsecure.
In other words, nailing the first impression is critical to mobile payment success.
Using responsive mobile design – that automatically adapts to a user's screen size no matter the dimensions – ensures that unstandard phone types don't interfere with the usability of a mobile pay website. That's a significant consideration given that there's no such thing as standard sizing when it comes to the screen dimensions of mobile devices.
Implementation Best-Practices:
Use responsive design for your billing and payment websites. Although it may not provide the visual flash of a static site, it's much more flexible device-to-device and less difficult and costly to maintain. Also key: recommended by Google.
Continually test performance of your mobile pay websites across new and popular devices. Sites like BrowserStack and Screenfly provide graphical, in-browser testing that helps prevent unnecessary mobile usability snags.