Deliver Personalized Financial Communication with Impact
Engage patients with clear, easy-to-understand financial communication proven to connect with patients and accelerate payment outcomes. EliteBill makes it easy reach to patients with personalized financial outreach no matter how they prefer to engage –mail, online, text, voice, Facebook, or virtual assistant.

Proven Financial Engagement
Clear, concise, patient-friendly – and designed to fit your organization and its revenue goals to a tee. EliteBill uses impact color and patient-tested layouts to convert complex encounter and payment data into a simple billing summary that's easy to understand and pay.
---

Intelligent Workflows
Unlock your data to easily scale personalized patient financial experiences across all touchpoints. Segment patients into communication workflows based on data filters like propensity-to-pay, receivables aging, and payment preferences. Then reach them at the right time – and the right channel – with personalized financial offers, incentives, and guidance that inspire action.
---

Advanced Automation
Automate the entire patient financial communication process with smart business rules and variable personalization. Leverage intelligent workflows to build super personalized and relevant messaging for each patient on-the-fly.
---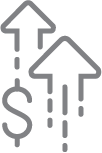 An Engagement Channel for Each Patient
Quickly reach patients on the channels they use most. Build more flexibility and control into your patient communication strategy with a multi-channel engagement stack featuring digital, paper, IVR, SMS, and point-of-service options.
---

Tighter Performance Tracking
Easily capture, visualize, and track trends with actionable deliverability and payment data that provides a clear line of sight to each financial message and channel. Elite's analytics package offers drill-down reporting that supports benchmark evaluation and continuous improvement.
---
Discover Dynamic Messaging: One Bill, Countless Possibilities
Experience a personalized, automated patient engagement engine that makes it easy for you and your staff to execute, analyze, and optimize a high-performing self-pay collection strategy. Hit the ground running with best-practice statement design backed by real-world performance data, custom workflows, autopilot automation, and all the communication touchpoints your patients expect.