A Single Platform for Payments
Meet the payment expectations of today's choice-obsessed consumers with an easy-to-use, cross-channel experience. Elite's super-flexible payment stack is built for convenience, enabling anytime, anywhere accessibility that streamlines payment – for both your customers and your staff.
Give your customers a hassle-free way to pay, no matter their preferred path – with always-on and always-easy online, mobile, and voice options. And regardless of where it comes from, every payment is auto-posted in your online dashboard for fast, easy transaction management, tracking, and settlement.

A single platform for receivables management
Set your financial experience apart with a payment process that's fast, painless, and personalized. Empower your customers to securely pay 24/7 from their favorite channel with guest, enrolled, or pre-scheduled online payments, mobile text-to-pay, inbound IVR, or Ella – our chatbot built for payment.
---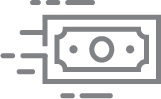 Accelerate Cash Flow
Turbocharge cash flow with fast, modern payment tools. Provide extra flexibility with an easy-to-configure payment plan builder that operates within parameters you set. And offer a variety of funding sources and the ability to save a card on file to simplify payment.
---

Go from Siloed to Cohesive
Prevent workflow inefficiencies, reduce payment errors and exceptions, and give your staff the tools to manage the payment process with ease. With ElitePay, you'll be able to simplify things with an all-in-one platform for collecting and processing payments – made in person, over-the-phone, or online – that works seamlessly with every part of your financial systems and software.
---

Meet Ella, the Chatbot for Payments
Go beyond standard web and mobile payment tools to deliver a truly personalized experience. With Ella, you can deploy a ridiculously smart, AI-powered chatbot for more relevant payment conversations. Ella accepts payments and answers common billing questions in real-time via SMS text, Facebook Messenger, and voice-based virtual personal assistants – like Amazon Alexa and Google Home.
---
Make Every Payment Meaningful
Take your company's service reputation to the next level with a payment experience that's remarkably fast, easy, and user-focused. ElitePay can help you streamline and accelerate payment by managing all payment activities from a single secure platform built with easy-to-use, multi-channel payment tools.