Collect Faster with ElitePay Mobile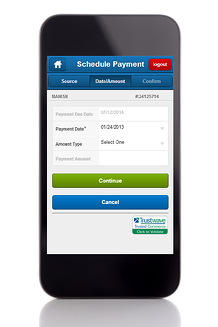 Get Fast, Automated Mobile Billing Tools From Elite
From smartphones to tablets, mobile technology is becoming an increasingly critical part of your customers' lives.
Nearly half of all American adults now own a smartphone. And many of them use their devices to access the Internet, send and receive email, and manage personal finances.
ElitePay's new mobile pay technology responds to the needs of these customers, allowing the entire billing and payment process to be managed directly from a web-enabled mobile device or tablet.
Our mobile billing and payment toolset helps accelerate customer payment, reduce collection costs, and automate billing practices with new technology that enables your mobile users to:
• Receive billing alerts via IVR automated phone call or SMS text message.
• Schedule payments, view payment activity and edit funding sources from a simple, secure, mobile-optimized billing and payment website.
• Complete mobile-based payments via an IVR automated phone system.
• Customize mobile alert timing, funding source and payment amount preferences.
• Opt in to receive account alerts and notifications via SMS text message.
ElitePay also processes and tracks all customer payments made using mobile sources. So you can seamlessly consolidate transaction reporting and settlement control and reconciliation across all of your revenue channels.
To learn more about how our mobile toolset can help you speed revenue collection and cut billing overhead, call 1.800.276.6456, email info@eliteps.com, or complete the form on this page.