4 Big Patient Financial Communication Trends to Watch
June 13, 2019 •Brian Watson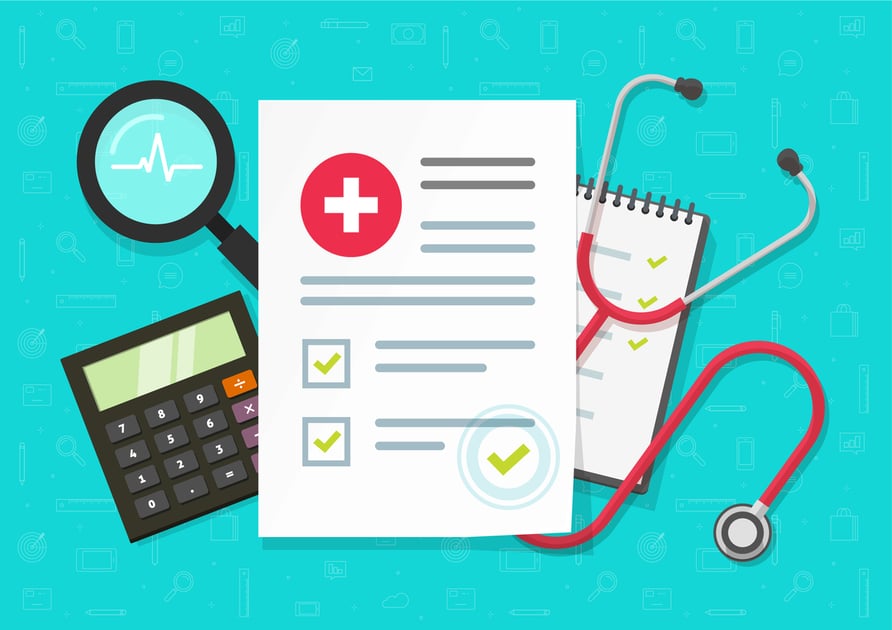 No one can know ahead of time precisely how the future will shake out.
Few years reinforced the unpredictable nature of the world we live in – and our inability to accurately predict just what will happen next – than 2018
But while trend-watching may be inexact science (to say the least), it's still a practice worth participating in – especially for industries where change comes fast and frequently, like healthcare.
As the nation's health delivery system continues to evolve, keeping up with the latest trends is critical for financial leaders hoping to stay current with emerging best-practices and technology.
From ACA to value-based care, cost-sharing to ICD-10, the patient financial landscape is shifting – a lot.
Deductible growth continues to increase patients' out-of-pocket financial responsibilities – and their role as active healthcare consumers. At the same time, emerging digital technology and data-rich analytics are providing new opportunities for providers to build more relevancy into financial engagement.
What are the patient financial communication strategies that have the greatest impact on revenue cycle performance in 2019 and beyond?
That's a big question, but paying attention to what's on the horizon can offer key insights. To that end, here are four patient financial communication trends that I'll be watching with interest in 2019.
Payment Estimates as a Financial Engagement Tool
I'm probably cheating a little bit here, as the idea of transparency in patient finance is by no means new.
But the steady increase in out-of-pocket payment – up 86% for workers in employer-sponsored plans since 2006 – has amplified its importance as a revenue cycle tool in recent years.
With the average deductible for covered employees reaching nearly $1,500 in 2016, patients have more incentive than ever before to be fully engaged as a healthcare consumer. And estimates of patient financial responsibility are central to that transition.
Apart from enabling patients to more accurately compare the out-of-pocket costs of various treatment options, estimates also go a long way towards ensuring that everyone involved in care is on the same page from a financial perspective prior to treatment.
In that respect, estimates are as much a customer satisfaction tool as they are a financial one. After all, when it comes to billing, the unexpected is rarely a good thing.
Given the benefits, it's no surprise that patients are increasingly demanding estimates from providers. For example, over two-thirds of patients said they wanted to know the full cost of their care, including the insurance portion, in a recent TransUnion survey.
But despite the ample demand, only 12% of respondents to the same survey found it "very easy" to get an estimate prior to care.
As healthcare cost-sharing continues to raise patient deductibles and copays, estimates are likely to become even more important to consumers. Over half of the TransUnion survey respondents said they would be more willing to return to a provider for future services if they were offered pre-service estimates, for example.
Key Tools:
Eligibility Verification and Pricing Technology
To create a more transparent, responsive financial environment for patients, many providers are turning to emerging technology for help. Using analytics that aggregate eligibility, deductible, and payer contracting data, providers are able to present patients with a more accurate snapshot of what they should expect to pay out-of-pocket for service.
Out-of-Pocket Cost Estimates
Cost estimates can go a long way to ensuring patients understand their financial responsibility prior to care – eliminating billing surprises that can jeopardize relationships with patients. In the case of the pre-service letter below, patients are provided a specific amount that they'll owe out of pocket – and how that figure was calculated – plus a short glossary of key financial terms like deductible, coinsurance, and copayment.

ACA Uncertainty and Patient Segmentation
At this point, it's anyone's guess what is going to happen in 2017 to the ACA.
Even before November's election results, healthcare leaders were worried about the instability of ACA markets, with large insurers pulling out, a shortage of younger enrollees, and rising premiums.
While it's probably safe to say ACA won't be repealed outright, there's a good chance that available coverage could be scaled back – which may further increase the portion of revenue that falls into the patient self-pay category.
That has clear implications for providers – in 2017 and beyond. Not only are direct patient payments more costly to collect, the likelihood of generating a payment outcome is also much lower. As much as 81% of patient self-pay responsibility ends up as bad debt.
With ACA's looming uncertainty and deductibles skyrocketing, having a solid patient segmentation strategy in place to handle self-pay will be increasingly critical.
Whether through existing internal financial data – like balance size, encounter type, or payment history – or with external credit or propensity-to-pay scoring, a robust segmentation strategy can help establish smarter workflows for more efficient follow-up.
It can also enable customization at scale of each patient financial communication touchpoint – so that all engagement better responds to the specific financial needs of patients.
Key Tools
Segmentation Analytics
Most self-pay revenue comes from a very small portion of patients – somewhere between 20 and 30% on average. That means a lot of money, time, and staff is spent pursuing client balances that offer little ROI. By applying segmentation analytics, providers can intelligently apply workflow rules that are tailored to fit key financial data like propensity-to-pay, balance due, receivables aging, and patient payment history.
Financial Engagement Personalization
From a patient financial communication standpoint, advanced segmentation offers plenty of new opportunities for providers to pursue 1:1 patient communication. Building engagement workflows around segmentation analytics can add relevancy at scale to statements and notices. That can be something as simple as changing the shade of a statement for a past-due bill or as complex as programmatically offering a payment plan offer to patients that meet balance size and propensity-to-pay workflow rules.
Delivering the Right Message, at the Right Time, via the Right Channel
In a world where customer-focused companies like Amazon, Zappos, and Apple are constantly raising the bar for service, consumers increasingly expect every part of a transaction to be fast, easy, and convenient – especially billing and payment.
And those expectations don't change when a consumer also so happens to be a patient.
With healthcare consumerism growing alongside rising deductibles, it's critical that providers look to incorporate best-practices from leaders in other consumer-facing industries – like retail and hospitality – to make the billing process as simple and efficient as possible.
Personalization is one common area where those businesses tend to excel. From recommendations to payment preferences, relevant client data drives smarter processes.
We've already discussed how important segmentation and relevant, 1:1 communication will be in a high-deductible environment. But personalized engagement – delivery tools that "think" like your patients to better anticipate their preferences and behaviors – is another type of personalization used extensively by the Amazons and Zappos of the world that will also play a key role.
Knowing how your patients want to engage with you and pay their bill can help you tailor recurring billing touchpoints to best fit their needs, increasing satisifcation and accelerating payment.
Key Tools
Smarter Engagement
Personalized engagement is something that email marketers have excelled at for years – leveraging the data individual user response data build a more intelligent, outcome-optimized delivery strategy.
What does that look like in a healthcare context? Well, a start might be: what channel does a patient engage with most often? Does email go unopened but text messages generate a payment response? That's a building block for optimizing engagement.
Similarly, usage data can be analyzed for schedule-based trends. Like: what time of day works best? Is a patient a morning person or night owl? Or: does a certain day of the week spark engagement more than others?
Interactions can be data-mined for trends on a macro-level for your entire customer base or drilled-down to individual patients. Scale automation is then used to build on those analytics for a far more relevant, data-rich system of bill scheduling and delivery.
Addressing High-Deductible Patients' Billing Struggles
Despite an industry-wide focus on improving patient-friendly billing practices, many patients still struggle to understand the medical bills they receive.
Six in ten patients that participated in a 2016 Mad*Pow patient billing survey rated the medical bills they receive as either "confusing" or "very confusing", for example.
That's a sobering figure. But in some ways, it simply reflects the status quo in healthcare billing. It's no secret that consumers have long had an adversarial at best relationship with the financial side of care.
What makes it so critical now – and moving forward – is the way that deductible growth and patient out-of-pocket contributions are fundamentally changing the healthcare payment mix.
Employer cost sharing has spurred HDHP growth – up 152% since 2016. As has ACA marketplace enrollment, where 92% of plans fall into high-deductible metal categories.
Those numbers represent consumers that now have more incentive to act as healthcare consumers, but in many cases lack the experience with the ins-and-outs of how insurance works.
That uncertainty with the inner workings of the insurance process is reflected in consumers' primary frustrations with medical bills. Consider these findings from the 2016 Mad*Pow survey:
51% of patients weren't sure of the relationship between bills from the provider and statements from the insurance company.
46% reported unexpected expenses on a medical bill they thought to be covered by insurance.
43% weren't sure if the insurance company had been paid yet after receiving a bill
35% didn't understand the relationship between the bill and their insurance deductible
In a high-deductible marketplace – where a greater portion of revenue is collected directly from patients – it makes sense for providers to work with both patients and insurers to help the later better understand their coverage and how it relates to things like charges and what is owed.
Key Tools
Consolidated Statement (Plus EOB)
The stop-and-start nature of medical billing is a key frustration of many patients with a balance after insurance. In a single encounter, a patient may receive an EOB, a bill from a hospital, and one or multiple bills from associated physicians in- or out-of-network.
With the merger-rich climate the past in healthcare few years, many providers are already moving to a single business office or consolidated bill that includes all charges for in-network care.
Some hospitals are now going one step further: working with insurers to incorporate EOB information on a single consolidated statement. This kind of bill gets even closer to achieving a "credit card-like" statement format that resonates with consumers – eliminating both multiple statements from a single health system and any associated EOBs.
Reinforcing the Connection with Insurance
Confusion about insurance coverage is a major revenue cycle stumbling block – many patients simply lack a strong grasp of the ins-and-outs of their plan.
One way providers can work to overcome this issue is by interfacing billing and payer systems to add meaningful insurance information to patient statements. Presenting a snapshot summary of patients insurance coverage – including policy basics and deductible status – on a medical bill can help reinforce the connection between insurance coverage and patient financial responsibility.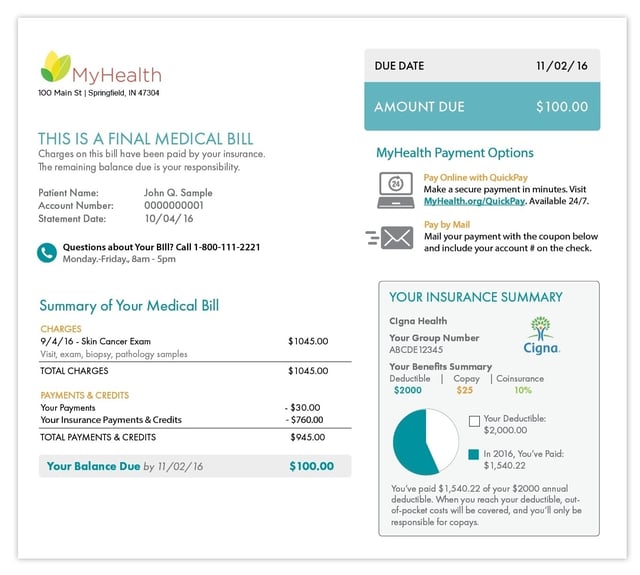 The Wrap-Up
If the last few years are any indication, the healthcare industry is in for some big changes in 2017.
From a patient financial communication standpoint, I'll be tracking these four trends closely in the year ahead:
Adoption of patient eligibility and cost estimation tools, and their impact on patient financial engagement.
The uncertainty surrounding the ACA and its impact on patient collections.
The use of data to support personalization of patient financial engagement channels.
Statement design and messaging strategies that can improve patient communications in an increasingly high-deductible environment.
What healthcare financial or patient billing trends will you keep a close eye on in 2017? Be sure to share your thoughts in the comments section below.